The photographs below are of a dull and dirty Black Slate floor that I was recently asked to renovate at a property in the City of Lancaster which is a few miles south of our base in Carnforth.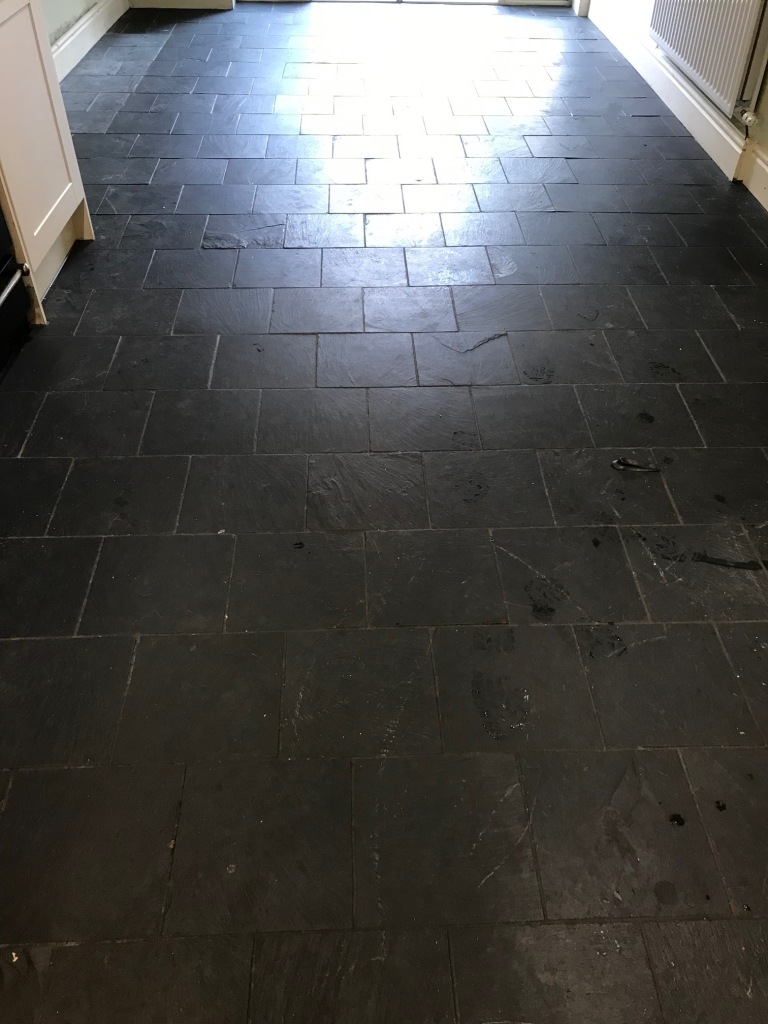 Slate isn't very porous which is why you often find it being used as roofing; however, this means any sealer applied is primarily active on the surface where it is more prone to wear from foot traffic. Regular cleaning with a pH neutral tile cleaner combined with topping up the sealer every 12 to 18 months will make the sealer last a lot longer. This rarely happens though and once a sealer has been worn off dirt will begin to penetrate the stone making it difficult to clean and dull.
In this case my client explained that the sealer had been applied by the tiler a few years ago and that they had been using washing up liquid to clean the floor. pH levels for washing up liquids vary but the most popular product has a pH level of 9 which is far too acidic for use on a sealed tile and slowly stripped the sealer away. I discussed with the client the process for renovating the slate floor, agreed a price for the work and arranged to come back a few weeks later.
Cleaning a Black Slate Floor Tiled Kitchen Floor
To renovate the floor, I first attached a coarse 200-grit Diamond pad to a buffing machine and ran it over the floor using water as a lubricant. This removed what was left of the old sealer deep cleaned the stone. The Grout was then scrubbed with Tile Doctor Pro-Clean and the floor was then rinsed with water and the soil extracted with a wet vacuum.
The floor was then inspected, and stubborn areas were spot treated with a little Tile Doctor Remove and Go which was sprayed on and left to soak in for ten minutes before being scrubbed in and rinsed off.
We finished the clean with a 400-Grit diamond padf followed by an Acid Wash with Grout Clean-Up, this left the Slate with a slightly acidic pH which helps bond the new sealer and counters the alkaline pH of the floor following the use of alkaline cleaning products.
Sealing a Black Slate Tiled Kitchen Floor
Before we sealed the whole floor, we always do some damp testing to make sure it is dry before sealing. This was an old floor with no damp proof membrane underneath so it needed to be very dry before we could apply the sealer.
The client wanted a very high gloss finish, so we applied four coats of Tile Doctor High Shine sealer which is an acrylic sealer ideal for achieving this affect. If the floor wasn't fully dry, we would have left it another day or two, but we find you can often speed up the drying process with the use of a dehumidifier and some air blowers.
The client was very happy with the transformation in the Black Slate floor, they had looked dull and drab for quite a while and it was refreshing to see them look like new again. They also felt more confident that now they understood what had caused the problem and would be better able to maintain the floor going forward.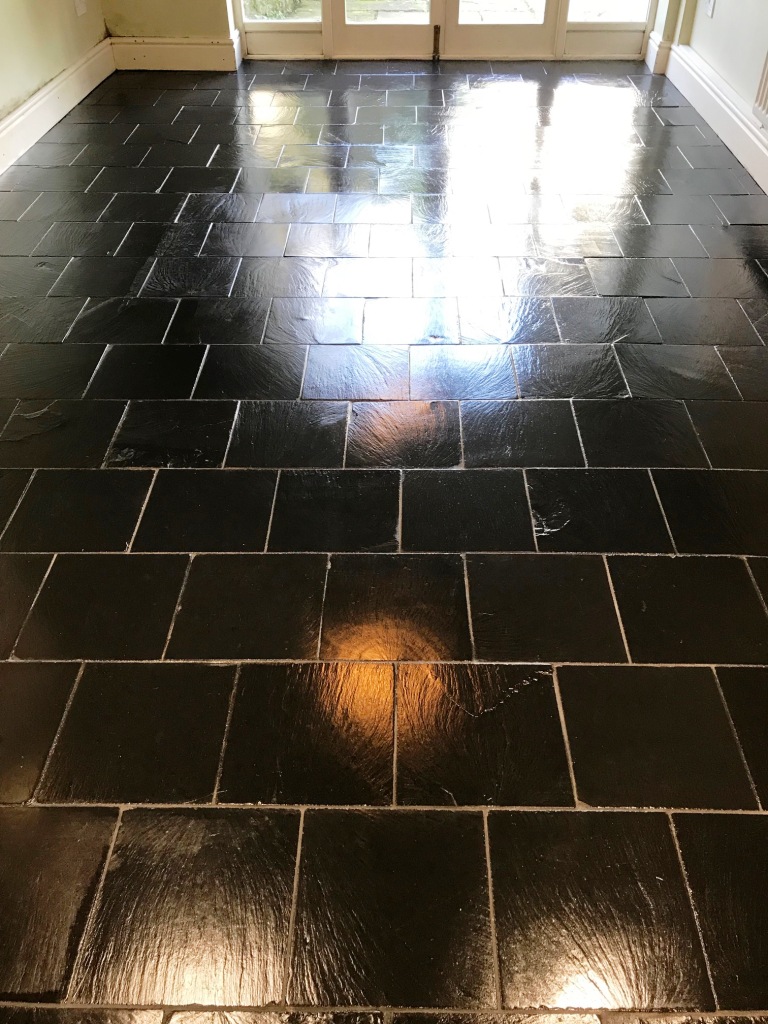 Professional Restoration of a Black Slate Tiled Kitchen Floor in Lancashire