This Copper Slate tiled floor at a property in the Ribble Valley village of Ribchester had been sealed just twelve months before by another company who used a topical acrylic sealer as the client wanted a shiny finish. However, this was a bad choice for a semi-riven tile and exacerbated by the fact that the client had three large dogs. The topical sealer just couldn't cope and the shine on the Slate faded in a few months.
After discussing the problem, I suggested stripping off what was left of the topical seal and then re sealing with a sturdier impregnating sealer. I recommended a product called Tile Doctor X-Tra seal which is a premium product that improves colour and is very durable so much so it can also be used externally. Since releasing this product last year it has proved to be very popular and has proven to be the answer in numerous tricky situations. It also adds a lustre and patina to the stone. The client was happy to go ahead with my quote.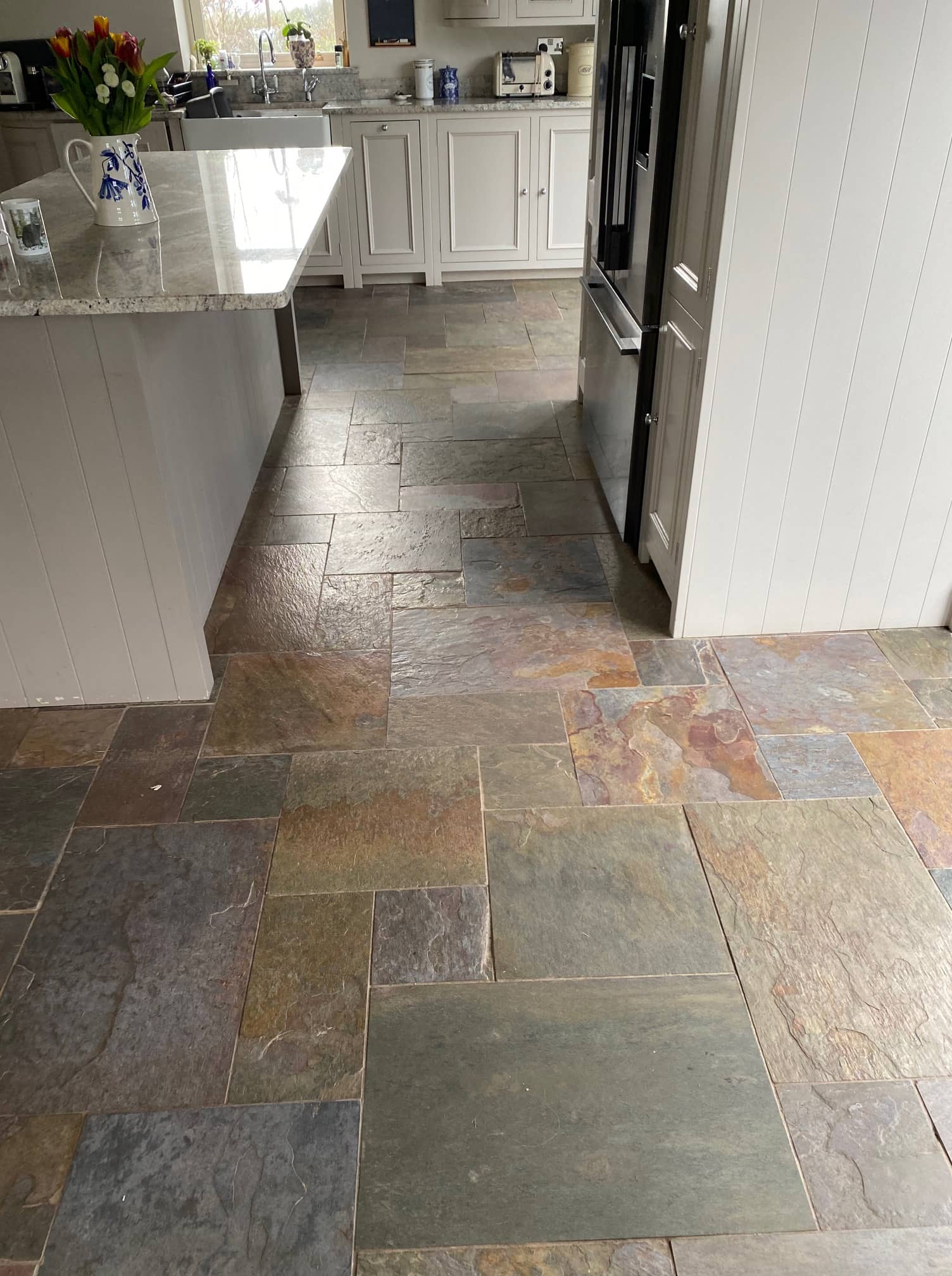 Cleaning a Semi Riven Copper Slate Tiled Kitchen Floor
My first concern when dealing with a floor situated in a kitchen is to prevent water being absorbed by the kitchen base units and plinths. Normally the plinths can be removed but if not, the solution is to run a bead of silicone around the area of concern. MDF is easily blown by moisture, and it doesn't take us long to add so it's well worth doing.
The cleaning started with the application of a strong dilution of Tile Doctor Pro-Clean which was scrubbed into the floor to remove the old sealer. On this occasion it was scrubbed in using a 200-grit milling pad fitted to a rotary machine. As well as stripping off the old sealer this action deep cleans the tile and grout. A lot of soil is released during the process, and this is brushed and rinsed away with clean water and extracted using a wet vacuum.
The next step was to give the floor an Acid Rinse using a product called Tile Doctor Grout Clean-up, this not only cleans the grout but also neutralised the pH of the floor after cleaning with The Tile Doctor Pro-Clean which is an alkaline product.
An acid wash removes grout smears, unwanted mineral deposits and roughens the stone at a microscopic level to provide a better bond for the sealer. You must be careful what you use it on, and we wouldn't recommend it for use on acid sensitive materials such as Limestone, Marble, or Travertine. Grout Clean-up is however safe to use on Slate, but I wouldn't leave it on for a long period of time.
After another rinse with water the wet vacuum was deployed again to remove as much moisture from the floor as possible. The floor was then left to dry out fully overnight.
Sealing a Semi Riven Copper Slate Kitchen Floor
The next day after confirming the floor was dry, work started with the application of what would be two coats of Tile Doctor X-Tra seal. X-Tra seal is an impregnating sealer that soaks into the pores of the Slate ensuring dirt cannot reside there.
I would be the first to admit that a topical sealer would have resulted in a shiner finish but clearly this was not a practical choice when you have 3 big dogs who will run around the floor and tear at the sealer with their claws. Topical sealers as the name suggest sit on the surface and are simply not a very practical option for this situation.
Once completed the Copper colour in the Slate was really enhanced, the grout looked much cleaner and overall, the floor looked great; more importantly the client was very happy with the work we had carried out.
For the cleaning of sealed Slate tiles, I recommend the use of Tile Doctor Neutral Clean which is pH neutral and gentle enough for regularly use. Its also provided in concentrated form so a small amount goes a long way. Many of the floor cleaning products you find in supermarkets are bleach based and far too strong for use on a sealed tile resulting in premature damage to the sealer. I forgot to ask what they had been using to clean the floor previously, but this may also have been a factor in why the previous sealer only lasted a few months.
Professional Restoration of a Semi Riven Copper Slate Kitchen Floor in Lancashire